Benefits Program & Compensation
Our benefits include dental, vision, and medical insurance, vacation time with the option to purchase more, a stock purchase program, financial education, short and long term disability support and much more!

Health Care: Dental, Vision and Medical Insurance
We care about the health and wellbeing of our employees. That's why as a Technician, you're able to benefit from dental, vision, and medical insurance from Day 1.

Vacation Time
While work is important, we also want our employees to be able to rest and regenerate. That's why you'll be able to leverage a generous vacation time offering, with the possibility to purchase more when the need arises.

Stock Purchase Program
Our employees are able to participate in a stock purchase program. You can set aside a small % of your monthly salary to purchase company stock, with a 50% match from P&G.

WorkLife Solutions
WorkLife Solutions give you and your family easy access to confidential, no-cost assistance across a wide scope of personal or workplace challenges; some including legal & financial consultations, extensive health resources, personalized support services and much more.

Short- and Long-term Disability Support
Safety is a priority in our plants and daily operations. At the same time, our employees can feel at ease knowing they're covered by disability support.
Work-Life Balance
P&G Coolidge cares about its employees and wants to ensure that living life does not come second to your job. Below are some of the ways P&G Coolidge offers a healthy work-life balance.

Schedule Rotation
Coming Soon

Paid Parental Leave
Employees with responsibility for a child's upbringing (including mothers, fathers, domestic partners and legal guardians) are eligible for up to 8 weeks of Paid Parental Leave to care for and bond with the child. An additional 8 weeks of leave is available to mothers and surrogates for birth and recovery time.
Facility Offerings/Perks
Coming Soon
Training & Development
In P&G, we hire for a career and not just a job. That's why ensuring our employees have the right resources to develop is critical for us as a company. We offer a variety of possibilities for our people to grow—ranging from classroom or on-line trainings, mentoring, on-the-job learning, and more.

Mentoring
Never feel "lost" on the job. From day one, we will mentor and build upon your skills to bring out your best. In addition to your team members and immediate leaders, we also offer an optional mentorship program which matches you with an experienced employee who services as a trusted advisor and role model to help you reach your full potential.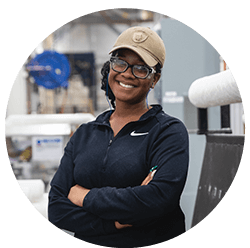 Upon starting my journey with P&G, I was provided ample training opportunities and encouraged to grow and develop my skill set.
JORDAN