Benefits Program & Compensation
Benefits include dental, vision, and medical insurance, vacation time with the option to purchase more, stock purchase program, financial education, short- and long-term disability support, and more!

Health Care: Dental, Vision and Medical Insurance
We care about the health and wellbeing of our employees. That's why as a Technician, you're able to benefit from dental, vision, and medical insurance from Day 1.

Vacation Time
While work is important, we also want our employees to be able to rest and regenerate. That's why you'll be able to leverage a generous amount of vacation time offering, with the possibility to purchase more during our annual open enrollment period.

Stock Purchase Program
Our employees are able to participate in a stock purchase program. You can set aside a small % of your monthly salary to purchase company stock, with a 50% match from P&G.

Financial Education
As a P&Ger, you can take part in our financial education program, which can help you effectively manage your cashflow and maximize your savings.

Short- and Long-term Disability Support
Safety is a priority in our plants and daily operations. At the same time, our employees can feel at ease knowing they're covered by disability support.
Employee Assistance Program (EAP)
The Employee Assistance Program (EAP) is offered to all employees at our plant. The program provides 24-hour free access to advice on financial, emotional and legal matters that may affect you personally. The services is provided online or via a confidential telephone helpline which can be accessed by employees and their families.
Work-Life Balance
We want you to live a vibrant, happy and healthy life. Here you can explore our benefits and plans designed to help you and your family live well, stay healthy and be supported during times of need.

Family-Friendly Leave Entitlements
We offer generous paid maternity, paternity, adoption and shared parental leave entitlements to eligible employees.

Training & Development
In P&G, we hire for a career and not just a job. That's why ensuring our employees have the right resources to develop is critical for us as a company. We offer a variety of possibilities for our people to grow—ranging from classroom or on-line trainings, mentoring, on-the-job learning, and more.

Training Programs
Each employee has the chance to attend several trainings a year from our world-class learning curriculum. Some are critical for the job, while others allow you to explore additional competencies or build soft skills.
Mentoring
Beyond classroom learnings, P&G employees can also benefit from learning from others, including our experienced specialists, managers, and senior leaders.
On-the-job Learning
In developing employees, we follow the 70-20-10 model, which states that 70% of information you learn comes from experience. We enable our people to do just that by giving them challenging tasks in a supportive atmosphere which helps accelerate your development and makes each day a learning experience.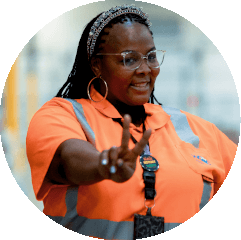 What I appreciate about the learning opportunities at P&G is that there is always room for growth and lots of encouragement to move forward. There are many opportunities to learn about different functions and no dead ends to what you can learn.
SHURMELL
PILOT (SITE FLOW) TECHNICIAN