View Open Jobs

Opportunities
Grow professionally and personally with P&G North Chicago
As a Technician, you'll work in a team responsible for keeping production flowing, meeting performance goals, and maintaining the high level of quality consumers expect from our products. We hire you at entry level, and you advance by demonstrating growing levels of operating, maintenance, and leadership skills. We also provide you with the opportunity to expand into electrical, quality assurance, safety & hygiene, and other areas of expertise.
Roles
As a technician, you'll work on a team responsible for keeping production flowing, meeting performance goals, and maintaining the high level of quality that consumers expect from our products.
While working as a technician at North Chicago Plant there are several areas in which you can make an impact. Whether it is in our warehouse, working in our powder plant, or helping to support our day to day operations in delivering raw materials to our customers; there is no doubt we have a meaningful opportunity and long-term career for you
Operations/Production Technician
The Plant Technician will be responsible for performing all activities related to the production of a variety of dry and liquid chemical products, including operation, maintenance, improvement and housekeeping/appearance.
TRAINING REQUIRED/PROVIDED
From Day 1, you will go through an immersive and robust onboarding & orientation experience to get you acclimated with the site and the work. Throughout your career with us, you will be provided through training, coaching, mentorship, and support to equip you with the tools and knowledge necessary to not only deliver, but excel at your work
REQUIREMENTS
The requirements for this role are minimal.
Be 18 years of age or older
Have a high school diploma, GED or equivalent education
Preferred: experience working in operations, material handling, or a related production field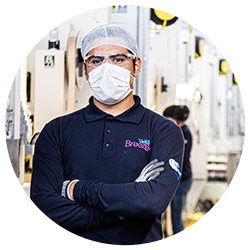 I'm responsible for reducing waste of materials and generating savings by reusing them.
LUIS

Quality Control Chemist
The QC Chemist is part of a high-performance organization where proven communication, initiative, leadership, teamwork skills and abilities are required.
The QC Chemist is responsible for maintaining and improving site safety; providing leadership and ownership for a safety or quality system; owning a zone ownership area by operating, maintaining, and improving the zone to deliver performance targets; developing and executing a personal action plan; participating in business improvement/loss elimination projects; and functioning as a team member in a high performance organization. The QC Chemist will routinely be called upon to work independently.
TRAINING REQUIRED/PROVIDED

At North Chicago, we will work closely with you to provide you all the training you need to become a strong and proficient quality control chemist. With a robust in-house training program and strong mentorship, you can trust that you will be well prepared to tackle the work regardless of the amount of previous work experience. Here are some key essential functions of the role just to give you a better idea of what to expect and what we are looking for:
Possess experience and knowledge of basic laboratory operations such as weighing, titrating, and preparing volumetric solutions.
Interpret analytical method procedures and safety instructions using standard chemistry terms and measures.
Perform routine calculations pertaining to analytical chemistry (e.g. dilution, concentration, test results).
Have effective verbal and written communication skills with supervisor, other employees, and departments.
Have the ability to work to work on a rotating, five shift schedule, including weekends. Must be available for overtime and call-in as needed.
Have training and experience in order to work safely around complex, analytical instrumentation and apparatus as well as hazardous chemicals in a manner that complies with Safety and QA standards.
User knowledge of Microsoft Windows, including MS-Word, MS-Excel, MS-PowerPoint, e-mail, and the capability to interact with other software programs as required/trained.
REQUIREMENTS

B.S. degree in Chemistry with a basic knowledge of analytical chemistry; or a B.S. degree in a closely related field and a minimum of one year experience in a QC lab strongly desired.
Meet the requirements of a safe operation and personal safety using required personal protective equipment, and safe practices.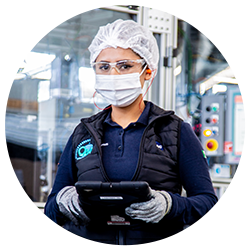 I ensure that quality standards are followed, so that our products meet the needs of our consumers.
MARIA
Career Path
Coming into North Chicago Plant as a Technician, there is no limitation or boundary as to where your career can take you. See below for an example of what a career path may look like at our site. Below you can find an example career path for somebody who enters the company as a Technician. Each employee has a personalized career path, so not all of them may look like this.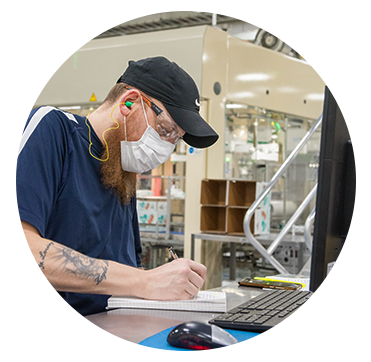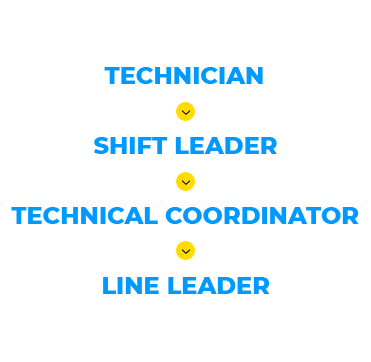 In order to enable our people to succeed and grow, we offer a wide range of development opportunities and provide the right tools for you to build a long-term career at P&G.