Benefits Program & Compensation
North Chicago Plant offers a competitive total benefits package where you will be valued and rewarded for your work. In addition to a competitive salary that is benchmarked against the finest companies, you will enjoy benefits that help you live a vibrant, happy, healthy life.
Benefits include dental, vision, and medical insurance, vacation time with the option to purchase more, stock purchase program, financial education, short- and long-term disability support, and more!

Health Care: Dental, Vision and Medical Insurance
We know health care coverage is so important to new hires, so we offer coverage beginning on your first day, assuming you enroll in one of our plans within 30 days of your hire date. We are able to offer these benefits to our employees at lower premiums with lower deductibles than many other employers

Vacation Time
While work is important, we also want our employees to be able to rest and regenerate. That's why you'll be able to leverage a generous vacation time offering, with the possibility to purchase more when the need arises.

Stock Purchase Program & Retirement Plan
Our employees are able to participate in a stock purchase program. You can set aside a small % of your monthly salary to purchase company stock, with a 50% match from P&G.
At our company, we leverage a program called Profit Sharing where P&G makes an automatic contribution to your account based on you years of service & base salary. You do not need to make any contribution, but you may choose to add additional contributions to your stock and 401K plans

Financial Education
As a P&Ger, you can take part in our financial education program, which can help you effectively manage your cashflow and maximize your savings. We also provide the option for employees to opt into legal services as apart of our benefits enrollment process to support you in several circumstances that may come up for you and your family.

Wellness Programs & Safety
Employees health and well-being are extremely important to us as it enables you to bring your full-self to work and perform at your peak. We offer a robust Vibrant Living program at the site that gives you access to resources to support you in many aspects of your life as well as reimburses gym memberships up to a certain amount
Safety is a priority in our plants and daily operations. At the same time, our employees can feel at ease knowing they're covered by disability support with both our short and long-term disability insurance options
Work-Life Balance
We know that both personal and professional increasing demands requires connections far beyond traditional schedules. We encourage employees and their managers to focus on personalized flexibility, designed to deliver business results and enable employees to grow their careers while meeting personal needs.

Personal Leave of Absence
A personal leave of absence enables the site to meet business needs and retain valued employees who, for a variety of reasons and at different times in their careers, need to take time off periodically for individual interest

Leave of Absence Policies
We have a great deal of leave of absence policies to support employees as they go through their various personal journeys in their lives, rather it is to have and care for a child, to care for a loved one, to bereave a loss, etc. We have something to support you in all of these life stages

Training & Development
In P&G, we hire for a career and not just a job. That's why ensuring our employees have the right resources to develop is critical for us as a company. We offer a variety of possibilities for our people to grow—ranging from classroom or on-line trainings, mentoring, on-the-job learning, and more.

On-The-Job Learning Programs
In developing employees, we follow the 70-20-10 model, which states that 70% of information you learn comes from experience. We enable our people to do just that by giving them challenging tasks in a supportive atmosphere that helps accelerate your development and makes each day a learning experience
Mentoring & Coaching
Beyond formal learnings & trainings, you can also expect to benefit from learning from others, including experienced specialists, managers, and senior leaders to develop towards being successful in your role and career at the company
Training Roadmap
Robust training roadmaps are developed and curated for every individual employee at the site based on the role that they will occupy. You can trust that we will be intentional about your development and providing you the tools necessary to grow in your role and at the company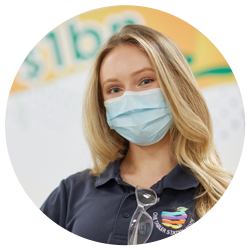 Upon starting my journey with P&G, I was provided ample training opportunities and encouraged to grow and develop my skill set.
JORDAN
Job List - North Chicago Plant